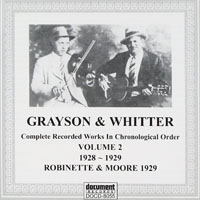 藝人:Grayson & Whitter
單曲:Little Maggie with a Dram Glass in Her Hand
年份:1928
Little Maggie 是美國的古老鄉村藍調歌曲,又名 Little Maggie With a Dram Glass In Her Hand,溯源可早至18XX年,下面這篇介紹文章我看得頭昏眼花 ......
http://richardmattesonsblog.blogspot.tw/2009/02/little-maggie-history-of-song.html
據說最早的錄音版本是 Grayson & Whitter 於1928年錄的。
Grayson & Whitter - Little Maggie with a Dram Glass in Her Hand (1928)
http://youtu.be/lJmJ0bo30Co
(Fiddle Intro)
Oh yonder stands little Maggie,
With her dram glass in her hand.
She's passing by her troubles,
An' a courtin' some other man.
How can I ever stand it?
For to see those two blue eyes,
They're shinin' like a diamond
Like a diamond in the skies.
(Fiddle break; Spoken: Little Maggie)
Now march me down to the station,
With my suitcase in my hand.
I'm goin' away for to leave you, little girl,
I'm goin' to some far distant land.
(Fiddle break; Spoken: yee-hoo)
I would rather be in some dark holler,
Where the sun could never shine
Than to know you're another man's darling,
And no longer a darling of mine.
(Fiddle break;)
Sometimes I have a nickel,
And sometimes I have one dime.
Sometimes I've got ten dollars
Just to pay little Maggie's fine.
Pretty flowers were made for bloomin'
Pretty stars was made for to shine
Pretty girls were made for boys to love
Surely Maggie was made for mine.
(Fiddle Break; Spoken: I hope so anyway)
(Extended Fiddle solos)
---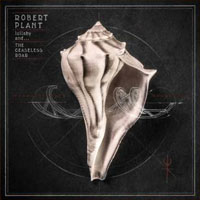 藝人:Robert Plant
專輯:Lullaby and the Ceaseless Roar
年份:2014
曲名:Little Maggie
我的大偶像 Led Zeppelin 的主唱 Robert Plant 有翻唱過 Little Maggie。
Robert Plant - Little Maggie (2014)
http://youtu.be/MlEJeZcvK4g
Yonder come little Maggie
With a dram glass in her hand
She's out running with a no-good
With a no-good, sorry man
Oh, the last time I saw Maggie
She was sitting by the sea
With her forty-four around her
And her banjo on her knee
Oh, how can I ever stand it
Just to see those two blue eyes
Which are shining like a diamond
Like a diamond in the sky, oh
I'm going down to the station
With my suitcase all in my hand
I'm going away, away to leave you
In some far off, oh, distant land
Hey, hey
Hey, hey
Hey-ohh
Ohhh
---
ally on 2017.09.19


0 Comment
---
Leave Your Comment